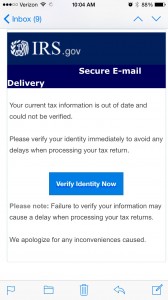 A new fraudulent identity theft scam has recently been brought to our attention. A client of ours forwarded us an email they received claiming to have been sent from the IRS notifying the would-be victim that their tax information "is out of date and cannot be verified". The email received, on the surface at least, looks alarmingly credible. Additionally the email provides a link to "verify" the taxpayer identity and states "failure to verify your information may cause a delay in processing your tax returns".
Had the taxpayer proceeded by clicking the "Verify Identity Now" button, the personal information provided could have fallen into the hands of an identity thief and resulted in a huge headache for the victim.
Please be aware that the IRS will NOT contact you via email! If you have received any type of correspondence that even remotely appears to be fraudulent or have any doubts as to its authenticity, please contact our office before proceeding with the request.
Stephen Osborne, CPA
Certified Public Accountant
sosborne@mo-cpa.com
Photo Credit: BigStockPhoto.com