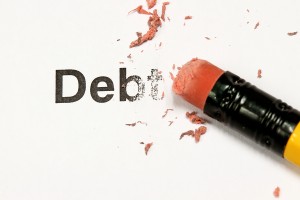 We're big Dave Ramsey fans around here. If you haven't listened to his radio show or read any of his books, you probably should. In fact, our office even purchased several copies of his books to pass out to clients who seem to be struggling with paying off debt. His approach to becoming debt-free, saving and investing is simple. If you are anything like me, simple is good. I thought of Dave this morning after reading an article from credit.com entitled, 3 Ways 20-Somethings Can Get Debt Free . The following steps are by no means rocket science, but are necessary to becoming debt-free:
1. Know Your Budget
My wife and I actually worked on tweaking our budget last night. I will be the first to admit there have been times in my life in which I was budget-less. When you operate without a budget its easy to lose all control of your finances. Dave Ramsey's website offers several user-friendly budgeting tools that will help you direct your finances (not the other way around). Taking a hard look at where your money is going each month can be extremely eye-opening and will allow you to make better decisions as to what expenses can be cut.
2. Zero In On Your Debt
For years and years most of us have been preached to about the importance of a college education, and for most college graduates, student loan debt is simply the price to pay for that gorgeous diploma so proudly displayed on your wall. Student loan debt is a heavy financial weight to bear, especially in a lousy economy. Many financial professionals have started to question whether or not taking on student loan debt is a wise decision. We all have read nightmarish stories of recent graduates with tens of thousands of dollars in student loan debt who are either un(or under)-employed. Once you've created a budget, it will be easier to develop a debt repayment plan. This should be your number one financial priority. A debt-repayment calculator can be a very useful tool in accomplishing this task.
3. Live Below Your Means
Or as Dave Ramsey says, "live like no one else, so later you can live like no one else". There is so much pressure to "keep up with the Joneses" as we are constantly bombarded with advertisements for all the latest (expensive) gadgets. Living below your means is the only tried and true way to pay off debt and save for a brighter financial future. Its so tempting (and easy) to spend every dollar you make. A larger income won't help you if you do. I've seen plenty of people who making six-figure salaries who are just as broke (or worse) as others making $25K/year. You'll be much better off if you are willing to save for emergencies, retirement and other future goals.
Like I said in the introductory paragraph, none of this is rocket science. You probably already know all this. If so, please let this serve as a reminder to put these easy steps into action. I've had this conversation countless times with colleagues – personal finance truly is 20% knowledge and 80% behavior.
Stephen Osborne, CPA
Certified Public Accountant
sosborne@mo-cpa.com
Photo Credit: BigStockPhoto.com