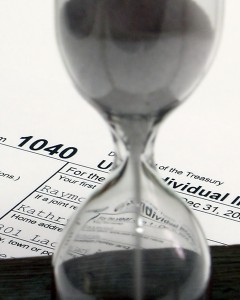 If you follow our blog regularly, you've probably noticed we haven't posted much lately. Things have been a little busy around here, cut us some slack. But we've made it to April 15th…. time for our office to take a giant, collective sigh of relief. We will be closed tomorrow and we will be tending to our ever-growing personal to-do lists that have been neglected for so long…. or we may just sleep.
Before we do so, we did want to take this time to thank all of our incredible clients, friends, and (especially) our families for the continued support that is absolutely necessary for us to make it through "busy season". You have all been wonderful.
We will leave you with some tax facts released from the Associated Press for your reading pleasure:
The IRS expected to receive about 35 million returns in the last week before the deadline. Most come with payments instead of refund requests.
Some other numbers, through April 4:
— Individual returns filed: 99.9 million.
— Refunds issued: 78.8 million.
— Share of taxpayers getting refunds: 79 percent.
— Total amount of refunds: $220 billion.
— Average refund: $2,792.
— Where's my refund? Visits to IRS.gov: 236 million.
— The rise of computers: 90 percent of returns have been filed electronically.
— Not bothered by tax forms: 58 percent of Americans say it is very easy or somewhat easy to complete a federal return, according to an Associated Press-GfK poll.
— But some people are bothered: 11 percent say it is very hard to complete a federal return.
— These people are really bothered: 7 percent say they would be willing to pay more in federal taxes if filing were easier.
Who pays federal taxes?
Last year, the federal government collected $2.8 trillion in taxes and fees. Here is where the money came from:
— Individual income tax: 47 percent.
— Payroll taxes: 32 percent.
— Corporate income tax: 10 percent.
— Excise taxes: 3 percent.
— Unemployment insurance: 2 percent
— Estate and gift taxes: 1 percent.
— Customs duties: 1 percent.
— Miscellaneous: 4 percent.
Sources: IRS, AP-GfK Poll conducted March 20-24, Treasury report on budget year 2013.
Stephen Osborne, CPA (on behalf of the entire staff) ,br /> Accountant
sosborne@mo-cpa.com
Photo Credit: BigStockPhoto.com