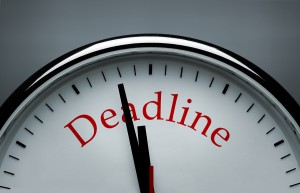 "Tax Season" (or as we briefly refer to it around here, "Season") may seem like it's flying by this year. Frankly, that's because it is. With the IRS' delayed opening on January 30, 2013 and the lack of holidays pushing back the April 15th deadline, tax season is only a 75 days this year . Compare that with the 102 days available for filing in 2012 and that's a huge decrease! Check out Forbes' article, " Tax Day Remains April 15, 2013, Despite Holidays and Hopes for Extensions " for more details related to this year's short season.
And if you haven't communicated with your tax professional yet, please (please, please, please, please) don't wait any longer! The deadline to file an extension is April 15, 2013. Extensions are only an extension for time to file, not an extension of time to pay the tax! Therefore, an accurate estimate must be made and any tax due must be paid with the extension.
Should you have any questions, please do not hesitate to contact our office.
Lisa Osborne
Office Administration
lisaosborne@mo-cpa.com
Photo Credit: BigStockPhoto.com