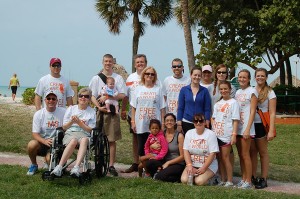 Our team after the 2012 MS Walk
We are approaching the final week of preparations going into the 2013 Naples MS Walk ! As you may know, our staff has been actively involved with the MS Walk for over 5 years now. This year, Lisa Osborne, Pamela Osborne and myself have joined the Naples MS Walk Committee and have been planning for next weekend since September. It has been a ton of work but we are excited for the results we've seen. Our clients and friends have been a great source of support over the years, and we can not thank you all enough! If you are interested in joining us for this year's walk (walking, donating, etc) please register or donate at the McDonald & Osborne Team Page . It is sure to be a great event! Breakfast and lunch will be provided, as well as entertainment from our favorite DJ and friend, Braxton Rhone! The setting is awesome, with the walk beginning at Lowdermilk Park and traveling down Gulf Shore Blvd !
We also would like to thank our sponsors : Novartis , Publix , First Watch , Crystal Geyser , Ian Russell Company , Collier Neurologic Specialists , Advisors Trust , Dr. Jim Croley, Wells Fargo , & McDonald's .
Raffle tickets will be sold at the walk for prizes donated by Ooh La La! Jewels Du Jour , Naples Princess , Naples Network Services , and Double Tree Naples ! Looking forward to seeing you there, and thank you for your support!
Stephen Osborne
Accountant
sosborne@mo-cpa.com