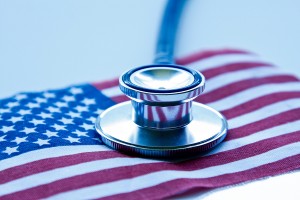 Starting with the 2014 tax filing season, those who purchased health insurance through an exchange and have household incomes between 100% and 400% of the federal poverty level ($11,490 to $45,960 for singles, and $23,550 to $94,200 for a family of four) will be eligible for a tax credit. If you eligible for Medicare or can get "affordable" health insurance through your employer you won't qualify for the tax credit.
When you apply for health insurance through an exchange you can opt to be paid the credit in advance via a reduction in monthly premiums. This is were it gets tricky though. Keep in mind that your upfront credit is only an estimate based on your Modified Adjusted Gross Income. The lower your estimated income, the higher the credit. When you file your 2014 tax return, you will be required to file a Form 8962 to figure the credit and list any advance payments you've received. If your income for the year ends up being larger than previously estimated or you become eligible for health insurance through a new job, the tax credit may be much smaller than anticipated resulting in a reduced refund or even a tax liability owed to the IRS.
To reduce your chances for error, be sure to inform the exchange you purchased your insurance through about any changes in income, family size and employment so that your subsidy can be adjusted in a timely manner. Hopefully there are going to be fewer reporting issues with the Premium Tax Credit than I expect next filing season… but that may just be wishful thinking.
Stephen Osborne, CPA
Certified Public Accountant
sosborne@mo-cpa.com
Photo Credit: BigStockPhoto.com