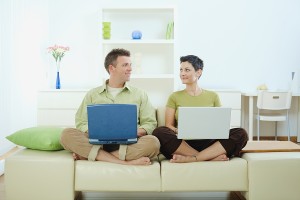 On January 15, 2013, the Internal Revenue Service announced a simplified option for claiming the Home Office Deduction, making the lives of home-based business operators a little easier.
In our November 2011 blog article, " Work From Home? There May Be a Deduction for That! ," we outlined the eligibility requirements required to take the deduction (which still apply) and the related items that may be deductible. Currently, taxpayers are required to fill out a 43-line Form 8829 which can be a little complex when you have to start allocating expenses, calculating depreciation and figuring carryovers of unused deductions. The new option (filed on a significantly simplified form) will reduce the paperwork and recordkeeping burden on small business by an estimated 1.6 million hours annually.
Under the simplified method the deduction will be capped at $1,500 per year based on $5 a square foot for up to 300 square feet of home office space. Homeowners will not be able to depreciate the portion of their home used in trade or business under the new option, but may claim real estate taxes and mortgage interest on Schedule A of their return. Business expenses such as advertising, supplies, etc. will still be deductible in full.
"This is a common-sense rule to provide taxpayers an easier way to calculate and claim the office deduction," said IRS Commissioner Steven T Miller. The simplified option will be available to taxpayers starting with their 2013 returns being filed in early 2014.
Stephen Osborne
Accountant
sosborne@mo-cpa.com
Photo Credit: BigStockPhoto.com