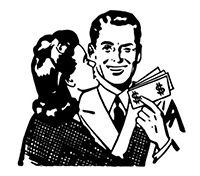 Married couples are offered two filing options: married filing jointly or married filing separately. Majority belief is that married couples save on their tax bill by filing jointly. This is usually true but there are some exceptions.
By filing jointly, in addition to benefiting from a lower tax rate, married couples are offered more tax credits and benefits that aren't offered when they file separately. But in some cases, filing separately is the way to go. For example, when both taxpayers have taxable income and at least one spouse has significant itemized deductions. Itemized deductions are reduced by your adjusted gross income (AGI). By filing separately, your AGI will decrease and you will be allowed an increase in the amount of itemized deductions. This would be ideal for a spouse who has the least amount of taxable income but high itemized deductions. If they were to file jointly, their AGI would increase while decreasing their allowable amount for itemized deductions. Three of the most common itemized write-offs that are limited by AGI include medical expenses, personal casualty losses, and miscellaneous itemized expenses such as investment expenses.
Another reason for filing separately would be if you suspect your spouse of tax fraud or if your spouse has unpaid child support or has defaulted on student loans. Should you file jointly, you will possibly be liable for your spouse's obligations.
Please contact us if you have any questions whether or not you should be filing jointly or separately. We are more than willing to help you find the best way to file for your tax benefit.
Pamela Osborne
Accountant / Office Administration
posborne@mo-cpa.com
Photo Credit: BigStockPhoto.com