Many business men and women see the name of the home office deduction and think that because they have an "office" at home and sometimes check their work email from their personal computer they automatically qualify for a write off. The list of "deductible business expenses" rapidly grows in their minds. We wish it were this easy. However, there are tests that must be met before a taxpayer will qualify to deduct home office expenses. Keep in mind that just because you take a home office deduction, does not mean that you will automatically be audited, but it is an item that IRS auditors like to look for because of its frequent abuse. Like all deductions, you'll just want to make sure you get it right.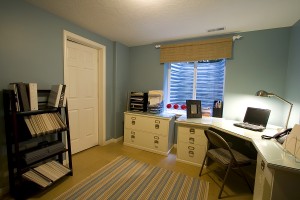 To qualify, you must use part of your home regularly and exclusively:
As your principal place of business
As a place to meet with clients , customers, or patients in the normal course of business
Or, in connection with the business if it is a separate structure not attached to your personal residence.
Also, employees may only take this deduction if the regular and exclusive use of the home is for the convenience of their employer and the portion of the home is not rented by the employer. Non-business profit-seeking endeavors such as personal investment activities, non-profit activities, and hobbies do not qualify for a home office deduction.
If you do meet these tests, the size of the deduction depends on the percentage of the home that is used for business. You can use any reasonable method to compute the business percentage, but most commonly used method is to divide the area (sq ft) of the home used for business use by total area of the home.
You may deduct both direct expenses (those that benefit only the business part of the home), and indirect expenses (benefit both the business and personal area of the home). The business percentage of indirect expenses and the full amount of direct expenses are deductible against business income (see limitations below)
Some examples of deductible expenses include:
Real estate taxes
Mortgage interest
Home repairs & maintenance
Utilities
Rent
Security systems
Depreciation
The business portion of qualified residence interest, property taxes, and casualty losses is deducted without limits. However, the deduction for the business portion of other home operating costs (such as insurance and utilities) is limited to the business's income minus deductions allowed regardless of whether the home is used for business. The business portion of mortgage interest, real estate taxes, and casualty losses can cause a loss on a Schedule C. Deductions that are disallowed are carried forward to the following year.
As always, if you have questions regarding the home office deduction, or are unsure if you qualify, give us a call and we will help you sort through your situation.
Stephen Osborne
Accountant
sdosborne@mo-cpa.com
Photo Credit: BigStockPhoto.com